Bring Healthcare and Nutrition to Child Refugees Around the World
from Children in Crisis
by World Vision Singapore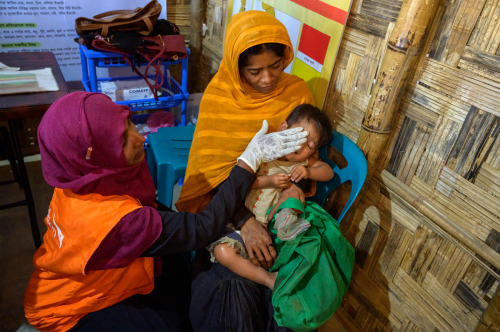 "Day by day she was getting tinier… When I arrived in Bangladesh, she was about to die. People were telling me, 'Your daughter will not live', and I thought 'Oh my God. Am I going to lose my baby?'" – Jaheda, a 30-year old mother whose daughter had both an infection as well as malnutrition.
We are witnessing the highest levels of displacement on record. There are now 25.9 million refugees globally - that is the highest number of refugees since World War ll. This includes:
4 million Syrian children affected by the brutal and violent conflict in Syria which has lasted 9 years to date, and shows no signs of abating;
600,000 Rohingya children living in the extremely overcrowded camps in Bangladesh, having fled violence, persecution and gross human rights violations in northern Rakhine State in Myanmar; and
460,000 Venezuelan children who have fled the economic meltdown and political turmoil in Venezuela to seek safety in neighbouring countries like Brazil, Colombia, Ecuador or Peru
Uprooted by conflict, many refugee children lack access to nutritious food and healthcare support – putting them at risk of irreversible delays in growth and health problems.
Your generous donation is a kind act with a big impact, sending tangible support to help these vulnerable child refugees:
$50 Feed and monitor 6 malnourished infants and young children
$500 Educate mothers and caregivers on optimal maternal and child nutrition practices
$2,000 Share of renovating and upgrading 3 nutrition centres
$5,000 Share of running a hospital to provide critical maternal and paediatric healthcare