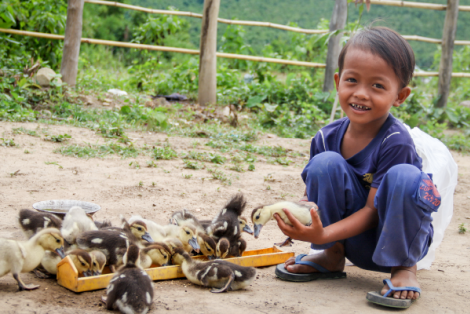 Fund-An-Entrepreneur
The COVID-19 pandemic has resulted in a loss of employment for many poor families, increasing their vulnerability. Many of them had lost their jobs at industrial zones or companies in service sectors because of COVID-19. For those who work in trading/commerce, the social distancing restrictions have also caused their business to be closed for some months.
However, poverty-stricken communities bear home to spirited and enterprising families, and many of these individuals are looking to build or grow their own businesses to sustain their family's livelihood and income to better care for their children.
While these families require additional cash to get started, many of them, often women, are unable to borrow money from banks due to their lack of collateral and financial records.
FUND AN ENTREPRENEUR TO ACCELERATE RECOVERY FROM COVID-19
You can help families recover faster and stronger by providing an entrepreneur with a small business or agriculture loan to improve their livelihoods. For example, buying a cow to expand their farm or setting up a new clothing shop to supplement their incomes. For families who do not have sufficient assets to secure loans, microfinance empowers them to generate their own income, and not rely on charity in the long term.
YOUR DONATION IS MULTIPLIED 3.2 TIMES TO CHANGE MORE LIVES.
World Vision leverages your donation by borrowing from institutional lenders. Moreover, when microfinance loans are repaid, the money will also be recycled to help the next entrepreneur. As multiple families overcome poverty, they can help their neighbours and relatives as well. Soon, the entire community will help lift each other out of poverty and emerge resilient in the face of future crisis and disasters as well. This means we can help more families with the same donation, building stronger and more resilient families and communities.
Watch the cycle of Microfinance and learn how your support can kickstart a community's transformation:
FUND AN ENTREPRENEUR TODAY!
Click here to see Frequently Asked Questions.
Campaigns in THIS PROJECT