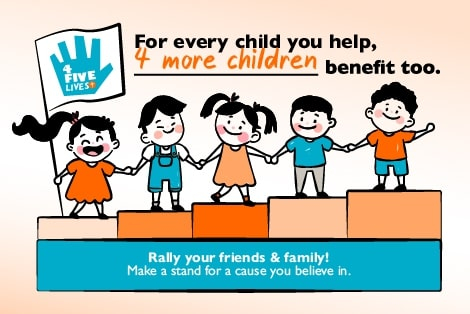 Child Sponsorship
Child sponsorship tackles the root causes of poverty to sustain long-term positive changes in the lives of children, families and the communities they live in, empowering them to move from poverty to self-sufficiency. All it takes is $45/month for the sponsorship of one child – your funds will help provide basic needs for the children in five areas: Child Protection, Education, Health & Food Security, Livelihoods & Microfinance, Clean Water & Sanitation.
Watch how Child Sponsorship works:

#4FIVELIVES

By building a relationship with your sponsored child, you can instill hope that they can thrive and dream big. A brighter future is possible, and your help through partnering with us would make all the difference.
Click here to embark on this journey of sponsorship with us today!
However, we know that $45/month might be a tricky amount for some individuals, so here's an alternative – Crowdfunding. You don't have to walk this journey alone. Instead, share it with the people you love!
Rally your friends and family together to experience this magic for yourselves!
Additionally, because of our community-focused solutions,​ for every child you help, 4 more children benefit, too.​
Watch how Child Sponsorship creates this rippling effect:

Imagine just what you could do, if you managed to gather two or more people together to sponsor two or more children.​

Wait no more, start your campaign with us today!

(The number of sponsored children & duration of sponsorship are flexible. Here are some possible combinations):
SPONSOR 2 CHILDREN FOR 1 YEAR: $1,080
SPONSOR 2 CHILDREN FOR 2 YEARS: $2,160
SPONSOR 5 CHILDREN FOR 2 YEARS: $5,400
SPONSOR 5 CHILDREN FOR 5 YEARS: $13,500

------------------------------
Watch how Nancy benefitted from Child Sponsorship, and was inspired to become an emergency aid worker.

Watch how Josephine overcame poverty with Child Sponsorship, and continued to pay it forward by sponsoring other children.

For more video updates on our progress and the improvements we have made on the lives of children and their communities, click here!
For more information on how to start your campaign, contact World Vision at 69220144 or enquiries@worldvision.org.sg
Campaigns in THIS PROJECT